Dr. Daniel Azoulay is consultant geriatrician for Beit Tovei HaIr and senior physician in the department of Geriatric Medicine and Palliative Care at Hadassah Mount Scopus Hospital in Jerusalem. For the past 15 years he has been advising the in-house medical team at the Tovei Residence and holding a weekly clinic for its residents.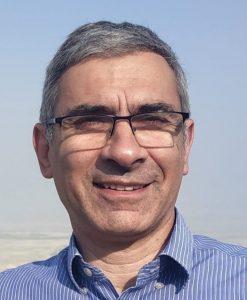 Dr. Azoulay moved to Israel 33 years ago, following completion of his general medical training in Toulouse, France. He continued his training in Israel, specializing in internal medicine and geriatric medicine. His full-time job as senior geriatric consultant at Hadassah Har Tzofim is supervising the geriatric departments and the support treatments offered at the hospital's hospice.
"Beit Tovei HaIr is my second job but my first love! It is a wonderful warm environment and the residents really thrive here. The staff are not just employees doing their job, but they really give of themselves and go the extra mile to ensure that all the residents are well and happy. On the medical side, they make exceptional efforts to keep everyone healthy. Our wonderful doctors and nurses endeavor to provide all necessary medical care in-house wherever possible, including end-of-life care. We have the best nurses and excellent doctors for whom nothing is too much trouble, and a medical receptionist who liaises with local hospitals and finds the best medical specialists when a resident needs specialist treatment."
Looking back over the past 20 months since the COVID pandemic broke out in Israel in March 2020, Dr. Azoulay recalls the many difficulties that it caused to Beit Tovei HaIr together with all of Israel's senior facilities and hospitals.
"As a member of the Beit Tovei medical advisory team, we have had an extremely challenging two years. Together with all other institutions and families around the world, the pandemic put us under huge stress. From the beginning we felt we were fighting a daily battle to keep the infection out of our building and to keep our residents safe.
"With G-d's help, and thanks to the dedication of every staff member and visitor, we were mostly successful, but the process was not simple for anyone. I was involved in daily meetings with the emergency management team. We had to review every aspect of the functioning of the organization, from who could enter the building, how testing should be carried out, how to safely offer meals to residents including on Shabbat and during Pesach, how to celebrate each Chag, and how to take care of sick residents and staff.
"Whenever possible we tried to provide medical treatment in-house, particularly when the Jerusalem hospitals were under pressure. Our priority was always the welfare of the individuals in our care and the safety of the institution as a whole. Everyone cooperated beautifully, and the residents clearly appreciated the complexity of the challenges and our efforts on their behalf. It was also clear to everyone that we were all in the same boat – in Israel and around the world – and that elderly people who lived alone were having a much harder time than those who were fortunate enough to live in sheltered accommodation."
Dr. Azoulay and the other members of the Beit Tovei HaIr medical team hope and pray that the COVID crisis is now over and we can look forward to a relaxed and healthy winter for everyone.